Uniform Nation
---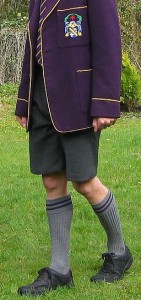 As a new term begins across the UK, many schools are increasing their 'stick to the rules' policy concerning the wearing of school uniform. Declarations such as the one below, from a busy High School in the South West of England, are being issued countrywide. The issue of often having to buy from a single retailer and the resulting difficulties that can bring have come to increasing prominence amongst parents and the media in recent times. So what are the values of the school uniforms?
"Our reason for having uniform is to support students to focus on their learning, create an 'even playing field' and a protective environment for students to develop their sense of self as they approach adulthood… Our uniform policy requires students to defer (until they have left school) permanent or extreme features which they may later regret." Further explanation is provided, the need for which may highlight our changing attitudes to uniforms, but these are the main points of the argument.
So, do such ideals hold true? Or are we discussing an outdated concept?
Contrary to popular belief, school uniforms did not begin within the English public school system, but among charity schools, such as Christ's Hospital School. Founded during the reign of Henry VIII in London, this early educational establishment took in "fatherless children and other poor children" and gave them a basic education. Their uniform was referred to as a "bluecoat", which consisted of a long trench-coat-style jacket, dyed blue. It was well known that blue was the cheapest colour of all fabric dyes, and was used to show humility amongst all children.
Today the uniform continues to be worn by Christ's Hospital pupils, with a recent poll showing that 95% of them still wishing to wear it.
Although some of the countries 'elite' private schools maintain their historical uniform, such as Harrow's straw boaters, most schools have evolved their uniforms. Few educational establishments now include caps or hats, with the majority adopting blazers, shirts and ties as their mainstay, with some using the more casual polo-shirt and jumper. The two main arguments for wearing a school uniform, as shown in the quote above, have always been to give the school a sense of identity and pride, and that with every pupil wearing the same outfit, class and financial differences within the classroom are broken down, giving a feeling of equality.
In an attempt to encourage the wearing of uniforms, some schools have encouraged their pupils to help design what they have to wear themselves. For example, Cottingham High School, in East Yorkshire, worked with a fashion designer (Lara Jensen), to create a uniform that had pupil-appeal.
Although a school uniform is not a legal requirement in the UK- many Academies in Scotland adopt a no-uniform policy- the Government, along with most teaching staff, parents, and a large percentage of pupils, believe that uniforms play a valuable role in contributing to positive behaviour and discipline; ensuring that pupils, from whatever background, are protected from social pressures to dress in a particular way.
Overall, then, despite the qualms that do exist, the school uniform would appear to be set to remain a mainstay of our educational culture.