The European Day of Languages
---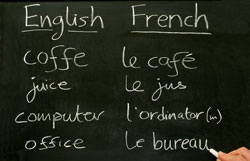 September 26 2012 sees the eleventh annual European Day of Languages, established in 2002 by the Council of Europe as a celebration of linguistic diversity across the continent.  The principal message conveyed is that foreign language skills are a necessary right for each and everyone one of us, regardless of nationality, geographical location, age or ability.  Why?  Because Europe has a wealth of linguistic and cultural diversity that should be celebrated and preserved.  To what end?   Through doing so we not only learn to cherish our own cultural traditions but also foster a greater understanding of other cultures.  How does language learning help?  The more plurilingualism that exists in society, the more people are exposed to new ways of thinking and intercultural understanding is therefore increased.  The European Day of Languages was founded to promote lifelong language learning for all; whether for travel purposes, business needs or simply pleasure.
Why English alone is not enough
With the world and Europe becoming increasingly smaller places, and international mobility more accessible to us all, it is no longer acceptable to rely on the fact that everyone will have a decent enough level of English for us not to have to bother trying out other languages.  The recent recruitment of volunteers with language skills for the London 2012 Olympic and Paralympic Games, when the UK welcomed the world to its shores, is living testimony to this.  Not only was there a huge requirement for professional translators and interpreters to deal with the millions of international visitors, but also a need for multi-lingual personnel working in all areas from ticket sales to legal representation.  Although we don't stage such enormous international events each and every year, it is undeniable that even within our own country, globalisation and international business ownership patterns have created a need in numerous professions for foreign language skills.  Similarly, in Europe alone there are now more opportunities than ever to live and study or work abroad.   It is also, however, a sad truth that people are often unable to make the most of such experiences due to a lack of the necessary language skills.
European languages
It is hard to put an exact figure on it but estimates hover around the 225 mark for the number of indigenous languages currently in existence in modern Europe.  This number of course does not include the additional languages brought into Europe by the continual arrival of refugees and migrants from the four corners of the earth, especially to capital cities.  More than 300 languages are spoken in London alone, for example.
How to get involved
Schools, colleges and universities tend to be the places with lots going on to celebrate languages on 26 September, though it is intended to be a universal event, so anyone and everyone can get involved by either attending or organising an event.  Go to the official European day of Languages Website http://edl.ecml.at/ for inspirational ideas and to find out more about what is happening in your area.  However big or small you go, taking part in this year's European Day of Languages could be the start of a new and exciting journey of language-learning.  It is widely believed that being able to communicate or to understand another language is a hugely enriching experience in itself.  Indeed "…to have another language is to possess a second soul" (Charlemagne).  Alternatively, you could use this September 26 to kick-start yourself into linguistic action and enrol on that Oxford Open Learning French or Spanish IGCSE or A'Level home study course that you've been meaning to do for so long.  Go on – what are you waiting for?!
Chloë Bullock – Tutor of French and Spanish