The Sword and The Cross in Wartime
---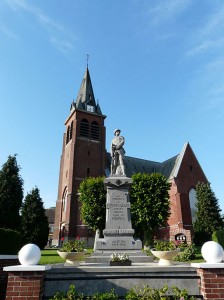 Clerical reaction to the declaration of war in 1914 differed from one country to another according to the national attitude to religion. The hierarchy of the Church of England initially showed no enthusiasm for war, with the Archbishop of Canterbury regarding the outbreak of hostilities as "a return to barbarism."
French Catholics called for national prayers, but for a time were more preoccupied with a divorce scandal in which the wife of a former finance minister had shot the editor of Le Figaro for publising her love letters. In the decade prior to 1914 there had been bitter quarrels between French Catholics and the Republic over the Church's monopoly over education, charity provision and land-holding. Partly because of this conflict, there were, for a time, no chaplains in the French army, being withdrawn in 1880 for fear of clerical opposition to the Republic. However, the French Prime Minister, Raymond Poincare, realised the vital importance of catholic support and sought to make peace with the clergy, declaring a "sacred union" between government and church.
In Germany, where the Kaiser was supreme bishop of the Protestant Church, there was firm support for the country's action and an unshakeable belief belief that the divine hand of God was with the nation. German protestants soon warmed to the condemnation of England and France; the British were predictably seen as hypocrites for their alliance with Catholic France and Orthodox Russia. Germans were outraged that the French and British used Muslim and Hindu troops on the western front. German churchmen considered the French frivolous and pornographers, whilst Englishmen were mere shopkeepers.
In all the beligerent countries, initially church attendance rose, but then declined, as church leaders preached the justice of their country's participation in the war as a moral virtue.
The Catholic hierarchy in Rome took a strictly neutral stance. The Pope, Benedict XV, condemned the sinking of the Lusitania and the British naval blockade of Germany–outraging French Catholics in particular. Benedict attempted to kick-start peace negotiations in 1917, but got nowhere as his proposal that the various nations return to something like the pre-war situation was unacceptable to all concerned after so much loss of blood and treasure.
After 1918 the slow decline of officially sponsored religion evident in the pre-war years continued. What the First World War did produce were the products of rising despair and hopelessness–Soviet Communism and Fascism.