Christmas in Europe
---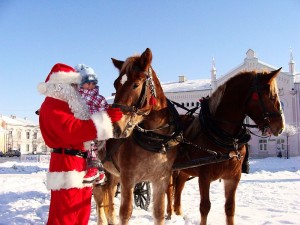 Christmas is celebrated across Europe in a fascinating variety of ways.
The word "Christmas" which we use in Britain came from the masses for Christ, held by English evangelists in December: "Christ's mass" became "Christmas."
In France the word "Noël" is used for the Christmas period, which comes from the Latin word natalis, which means "birth".
In Germany, Christmas is referred to as "The Holy Night" or Weihnacht.
Not only are there a variety of words for Christmas, but different European countries celebrate the festival in different ways. In the Netherlands, Father Christmas is known as Saint Nicholas (or Sinterklaas). He is celebrated on December 5th with a holiday which is much more important than Christmas Day itself.
We think of Santa Claus as residing at the north pole, but for dutch children Sinterklaas is said to live in Spain. More similarly, though, he is believed to be checking up on their behaviour from afar all year, while his servant, Père Fouettard (or Zwarte Piet), prepares gifts for the well behaved. They both arrive in the Netherlands aboard a steamboat, during the night of 5 to 6 December. Then, travelling over the roofs of the houses, Zwarte Piet goes down the chimneys to deliver the gifts.
Saint Nicholas is also widely celebrated in Northern Germany, Belgium and Austria.
In Sweden, on December 13, Saint Lucia's feast of light is celebrated. Lucia, a fourth century holy martyr of Syracuse, helped Christians who were persecuted by the Romans to survive by bringing them food in their hiding places. To light her way, she wore a crown of candles.
On December 13, young Swedish girls dress up in long white nightgowns and wear a crown of candles like Saint Lucia, then visit houses, giving cakes to families.
The traditionally white-bearded and red-suited Santa Claus or Father Christmas, as we call him in Britain, has many other names. For example, in Northern Italy he is called Babbo Natale, and in Romania he is called Mos Craciunen. In France, Father Christmas is called Father Chalande Sovoyard, Father January Bourguignon or the Basque Olenzaro.
In Greek and Cyprian traditions, there isn't a Father Christmas who gives presents to children. Instead, Saint Basil distributes presents to the children on January 1. A thinner character than our rounded-bellied Santa, Saint Basil had modest origins, and wore thin clothing. On the eve of Saint Basil's Day, early in the morning, the children celebrate his arrival and go to their neighbours to search for sweets.
Wherever you are, enjoy the festive period and whatever your Sanata Claus may bring!